News & Updates
12.8.17
December 17th at Stubblebine Lutherie
Putting on acoustic shows for listening audiences was once Ryan Fitzsimmons' main thing. He toured all over New England and beyond, playing folk shows full of his songs that are "as authentic and emotion driven as they come" (thanks Redline Roots). Recently though, Ryan's ever less-frequent musical appearances have tended to be more electric-oriented affairs, usually taking place within the fine drinking establishments of the surrounding area. On December 17th at Stubblebine Lutherie (an awesome guitar shop), Ryan will return to his folk-centric roots with a listening show, armed with just his acoustic guitar and songs. Ian Goldstein (mandolin) and Laurence Scudder (viola) will join him so he doesn't get to lonely up there in front. Also, given the proximity to a certain holiday, a few standards of this variety may also be explored.
Sunday December 17th
Stubblebine Lutherie
487 Somerville Ave, Somerville, Massachusetts 02143
4pm
Stubblebine Lutherie's Facebook Event
2.23.17
For the Sake of the Song: Tribute to Bob Dylan
I'm looking forward to being part of this tribute to Bob Dylan tomorrow night at the Me & Thee Coffeehouse In Marblehead with my good friends Danielle Miraglia, Greg Klyma, and Patrick Coman!
6.5.16
The band returns to the North Shore
The Ryan Fitzsimmons Band will be playing two outdoor shows on the North Shore of Massachusetts over the next two months. The first will be at the Vintage Bazaar at Pettengill Farm on Saturday June 25th. The second show with be as part of the Music in Market Square series in Newburyport, on Thursday July 7th. See shows for more information.
10.25.15
For 8 years Tom Bianchi and I have joined forces at the Lizard for a Halloween throwdown, this is the 10th annual Ryan Fitzsimmons Band Halloween bash. I'm calling it, this is the last one dammit, and we are going to do it right. One band all night - all-star lineup featuring myself, Tom, Danielle Miraglia, Jenee Halestead, Greg Klyma, Hugh McGowan, and the Baker Thomas Band. BOO!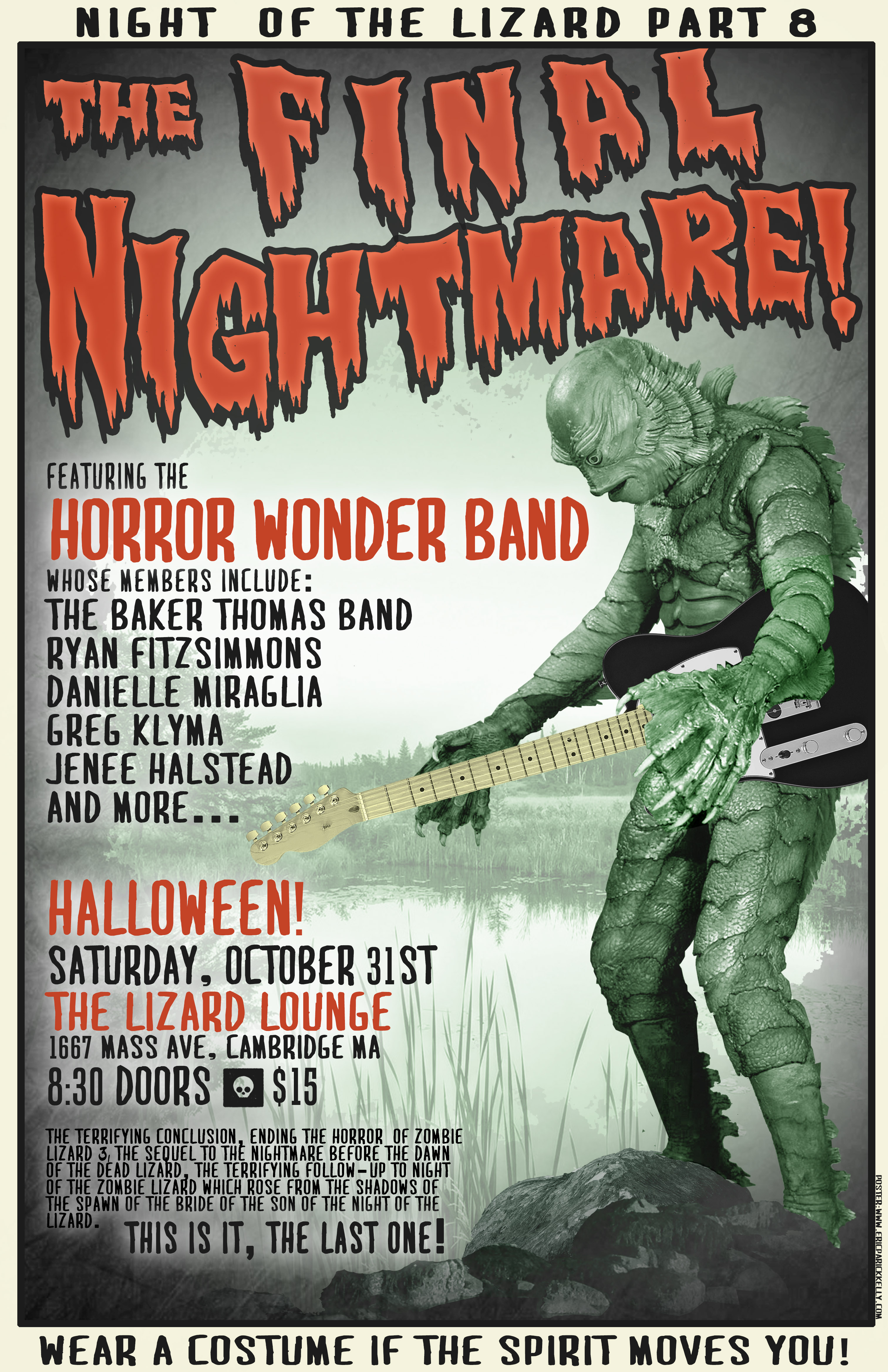 4.22.15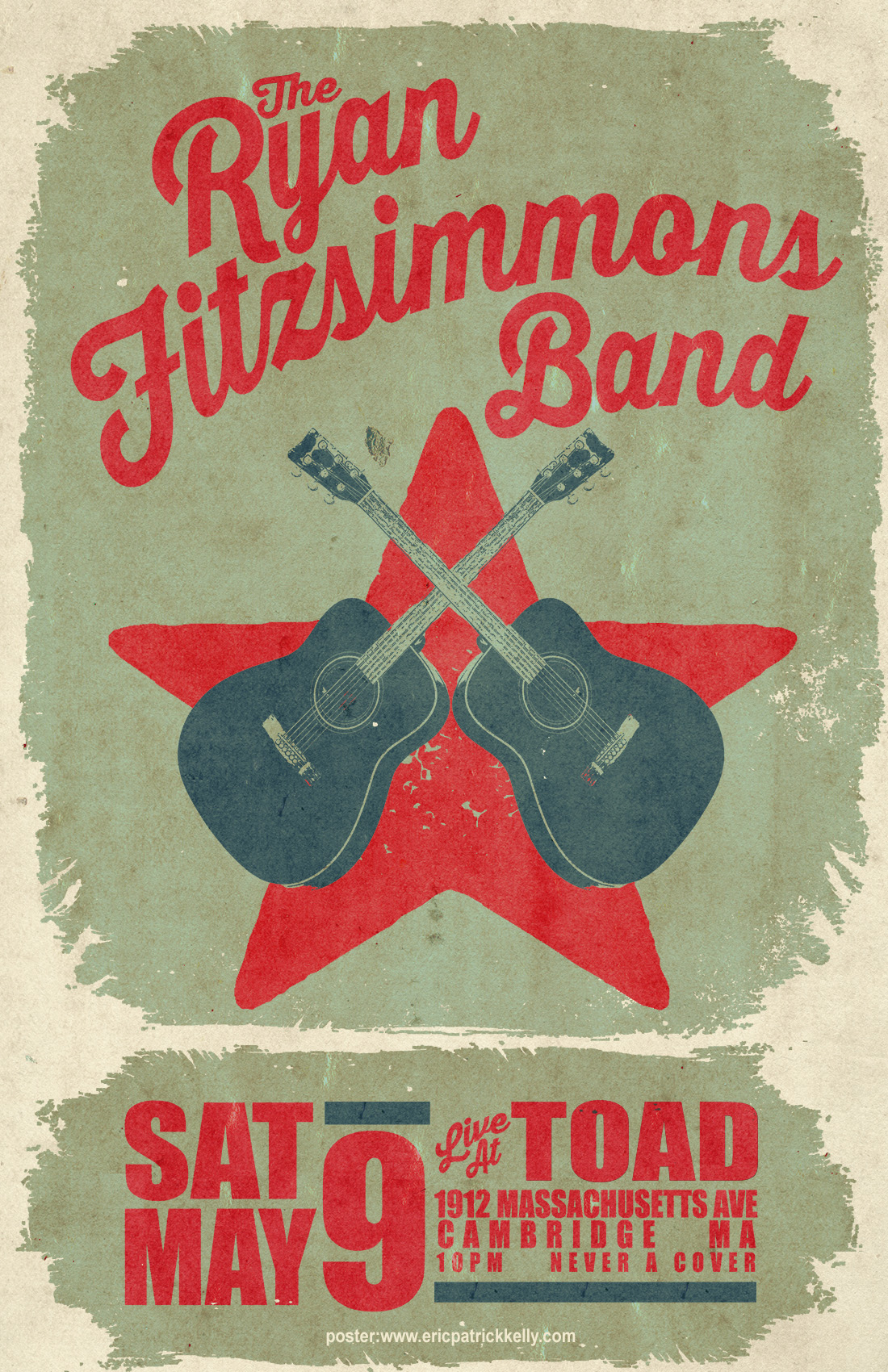 1.03.15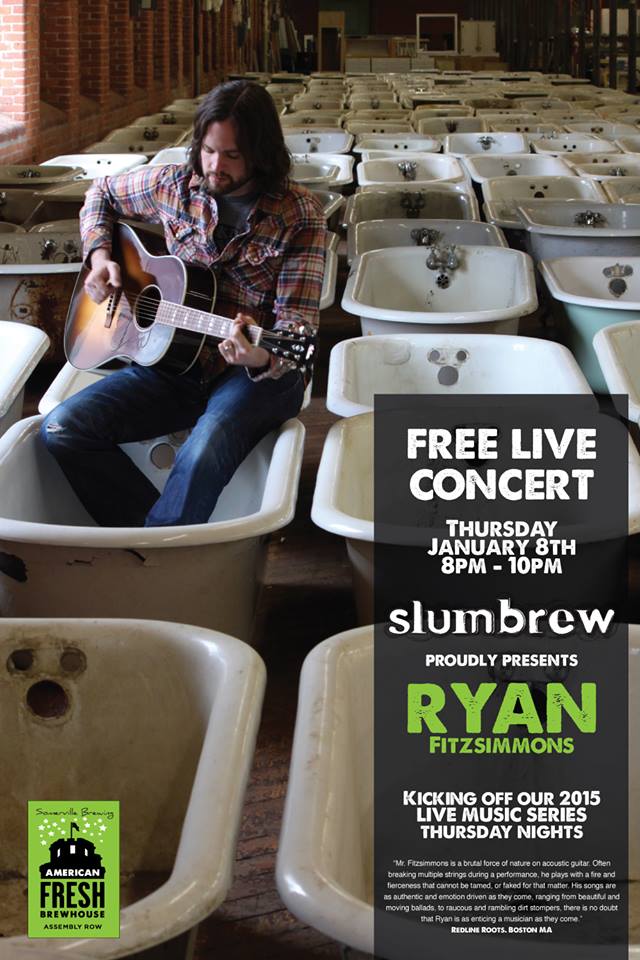 10.26.14
NIGHT OF THE LIZARD 7: HALLOWEEN EVE
For 7 years Tom Bianchi and I have joined forces at the Lizard for a Halloween throwdown, this is the 9th annual Ryan Fitzsimmons Band Halloween bash. It's one hell of a tradition. Come get your ghoul on with us, Danielle Miraglia's band will kick off the night also!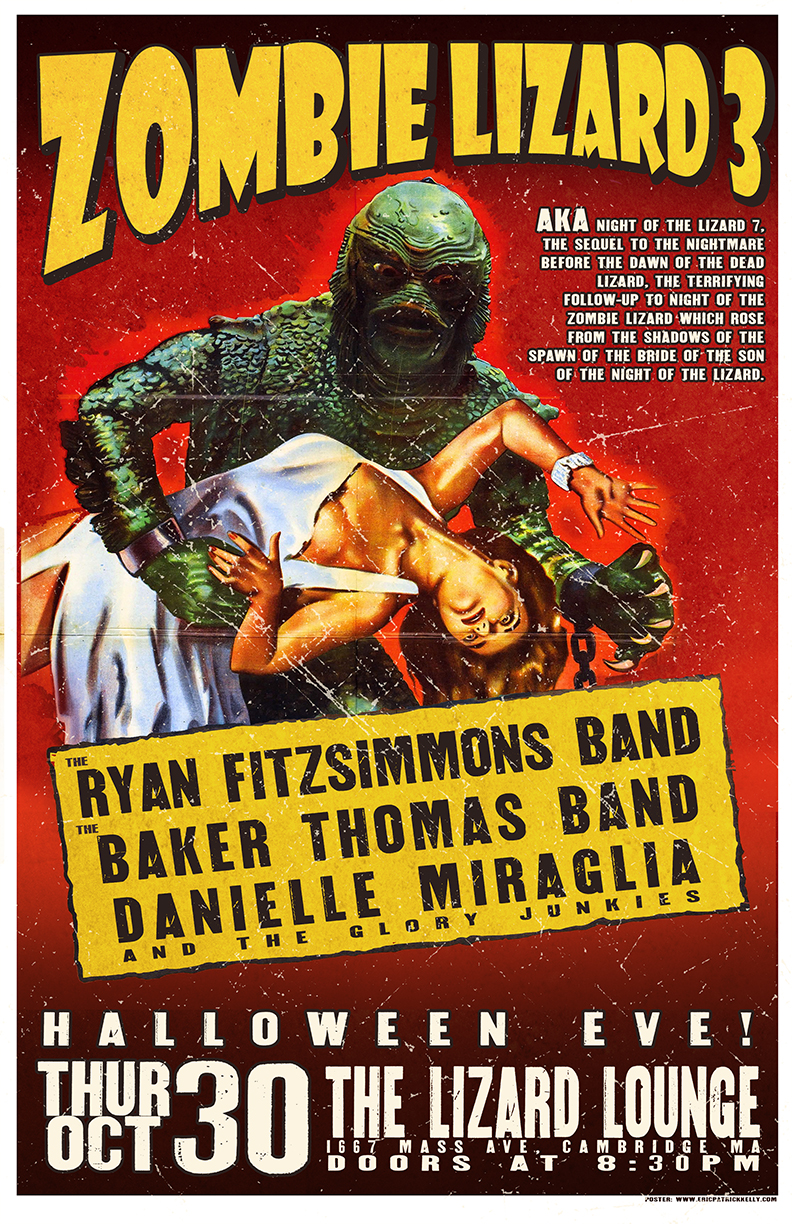 Here's the Facebook Event for ZOMBIE LIZARD 3
8.24.14
CITIZEN SLIM BEGINS THURSDAY AT ATWOODS
Greg Klyma and I have shared the stage many a night, and folks at the shows often commented that we ought to start a band. So we did. We've asked Chris DeSanty to man the drums, and Joe Klompus to hold down the the bass. Greg and I are both playing telecasters, loudly. No acoustic guitars allowed. This will be fun, and we hope to see you at our first show.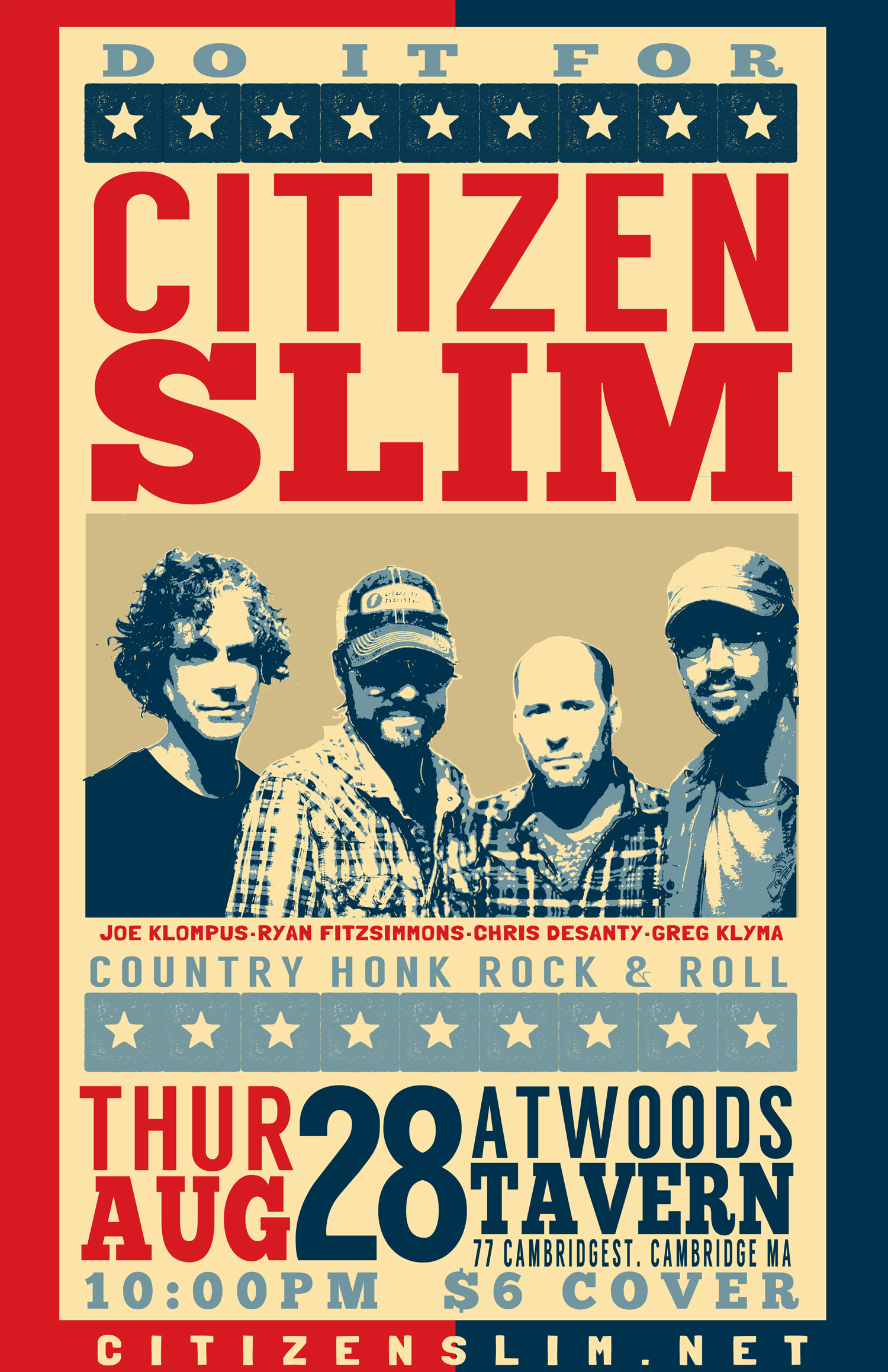 Here's the Facebook Event for this Citizen Slim deal
5.16.14
NELSON (CAZENOVIA) AND OSWEGO SHOWS
It's been quite some time since I've been back to my home ground, so I'm excited to have a few shows coming up at the end of the month in the Syracuse area. Both shows with be with my friend and collaborator Greg Klyma. He's celebrating the release of "Another Man's Treasure" which I helped produce.
Get your tickets here for the Nelson Odeon show
Check out the Facebook Event for our show at the Oswego Music Hall
PORCHFEST TOMORROW (SAT MAY 16)
Porchfest rocks - many, many bands are playing on porches throughout Somerville. It's an awesome way to spend a day! I'll once again be playing as part of Rebel Darling, which always includes M.R. Poulopoulos, and when in MA usually includes Laurence Scudder and I. We will be playing my tunes, Larry's tunes, and Mike's tunes. Spotted Tiger will also be there. We might all play at the same time, you never know.
Check out the Facebook Event for Rebel Darling at Porchfest here
5.10.14
17 State St
On Saturday May 10th I'm playing at 17 State St in Newburyport. It's a diner, and if you go to the music section and check out my first record, you'll see I have a thing for diners. I'll be solo, playing my original music and maybe some other stuff I didn't write. Just look for this sign:

photo by Sarah Morgan Shepherd
4.4.14
WITH TIM GEARAN AT ATWOODS
Tim Gearan is the man. His influence is deep around Camberville, there's rarely a night when you won't hear his songs covered by others in the bars and clubs. The reason is because he's one of the greats, an amazing songwriter and musician with an absolutely killer band that is usually only heard around our town. I'm excited to be playing a set before him on Friday April 11th at Atwoods. It's been a long time since we've played Atwoods, and as my band shows are rare these this will be a good one to catch!
Facebook Event for Tim Gearan's Residency at Atwoods
2.28.14
WITH GHOSTS OF JUPITER AT THE LIZARD THURSDAY MARCH 6TH
Ghosts of Jupiter have a month long residency happening at the Lizard, and on Thursday 3/6 I'll be doing a set to open the night. They are one of my favorite rock bands, fronted by Nate Wilson and made up of some of the best musicians in Boston. They play big, heavy 70's rock that is right up my alley. I'll have Laurence Scudder with me and we will make some noise of our own.
Facebook Event for Thursday with Ghosts of Jupiter
2.12.14
TOP CHOICE IN THE RED LINE ROOTS RECOGNITION POLL!
Thanks to all of you the band and I were voted "Favorite Local Bad Ass Rock n Rollers" in the Red Line Roots Recognition poll. It's by far the coolest award title we've ever been bestowed, and we are humbled and thankful for the nod. There's an amazingly talented music community here, and it's an honor to be recognized among such an awesome group of folks. Thank you!
Check out the Big Red Recognition Poll results here
MANDOLIN HELP FOR KARA!
One my favorite members of the aforementioned group of musicians is Kara Kulpa, and multi-instrumentalist singer-songwriter that I've been collaborating with for years on different projects. She is raising money for a new mandolin, which she certainly deserves and desperately needs. As fantastic a player as she is, she currently playing a mandolin that is of poor quality, hard to play and beyond sensible repair. Let's get her playing something that is worthy of her talent!
THE FALCON!
For the next few months at Toad this new colaborative/band/jam will take place on a selected Saturday. It may or may not feature me on Guitar, Jon Cumming (from Hot Day at the Zoo) on Dobro and Guitar, Laurence Scudder on Viola, Daniel Byrnes on Guitar and Mandolin, Matt Giannaros (from the Ryan Montbleau Band) on Bass, and others like Erik White, Jed Rosen (also from Hot Day), Dana Price, etc... This month it will be Jon, Jed, Dana and I - this Saturday the 15th.
The Falcon Facebook Event is here
12.2.13
SANDYWOODS CENTER FOR THE ARTS IN RI WITH DANIELLE MIRAGLIA!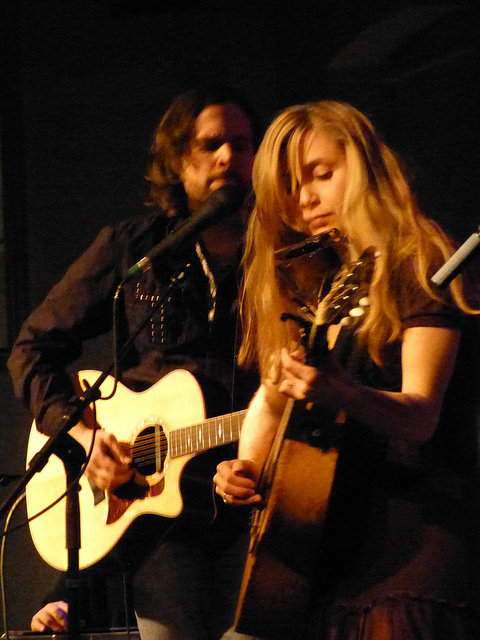 Danielle Miraglia is a killer singer, fingerstyle-guitarist and songwriter, and between tunes she's one of the funniest people I know. I'm fortunate to call her a good friend, and to get to share the stage with her on occasions such as this. We will split the night, playing some songs solo, some together, and generally having a good time. It's been a while since I've had a proper gig in old RI, so I hope to see you there! Sandywoods is a great venue working hard to present the regional arts, and they could definitely use the support.
Check out the Facebook event for Sandywoods here
NOMINATED FOR RED LINE ROOTS RECOGNITION AWARDS!
I'm honored to have been nominated for these awards focused on the Boston americana scene! I'm up for "Favorite Local MALE Songwriter" and for "Bad Ass Rock n Rollers"! While you are there, you can also vote for Danielle Miraglia, Laurence Scudder, Kara Kulpa, Andy Cambria, Mike Castellana, Greg Klyma, Tom Bianchi, and many other talented compatriots of mine. I'm in pretty humbling company!
Vote in the Red Line Roots Recognition Awards here
10.25.13
BARN CONCERT IN HOPKINTON MA WITH KLYMA!
Two of the most avid supporters of music I know run a pretty fantastic Barn concert series in Hopikinton. I'll be splitting the bill with Greg Klyma there this Saturday night. They have a beautiful barn with a stage (and heat!) that makes a really nice concert venue. It's been a while since Klyma and I have shared the stage like this, and it's always a recipe for good times.
Front Street Concerts in Hopkinton
THE NIGHTMARE BEFORE THE DAWN OF THE DEAD LIZARD!
It's tradition for the Baker Thomas Band and Ryan Fitzsimmons to celebrate the spookiest of holidays at the Lizard annually. This year Danielle Miraglia and her band the Glory Junkies joins will join us - wear a costume and get your Halloween on!
09.27.13
CLUB PASSIM FOR THE NEW ENGLAND AMERICANA FESTIVAL!
The New England Americana Festival is a fantastic event for those who dig roots-based music in the Boston area. It is run by the bands for the bands, completely home-grown with a non-corporate community-based atmosphere that really makes it fun for everyone. They will take over Harvard Square this weekend, with outdoor stages and night shows in the clubs. I'll be at Club Passim with the band, we hit at 8:50 for a 40 minute set. We are surrounded by other great bands that evening, so it will be a worthwhile trip to Harvard Square for a night of great music!
NE Americana Festival Club Passim Facebook Event Right Here!
08.08.13
ANODYNE REUNION AT THE LOST HORIZON IN SYRACUSE NY
I'm not sure when the last time I played the Lost Horizon was, but it was definitely in the early 90s. My friends in the band the Neural Groove are reuniting after 11 years apart, and they asked me to open the show (we shared many shows back then). I thought it would be a great time to get my old band, ANODYNE, back together for a set.
So, I'll be doing the opening set solo acoustic (with some help from my brother Todd Fitzsimmons), and then ANODYNE will close the night out after sets from The Neural Groove and Candid. Our lead singer Elisha is stuck in Italy, so the band will be Sean Grimes, Nick Liberatore, and our friend Rob Lauzon is going to help fill Elisha's shoes. Nick and I will be singing all our old tunes, most of which haven't been played in decades!
The Facebook Event for the Lost Horizon reunion
OPENING FOR PETER MULVEY IN CT
It's also been a while since I've opened for my friend Peter Mulvey! I'm looking forward to this show at the Vanilla Bean in Pomfret CT, which is a relatively short drive from Providence and Worcester MA, and certainly a beautiful corner of the world. Laurence Scudder will join me.
The Facebook Event for the Vanilla Bean
THE RYANBAKERFITZTHOMAS BAND AT TOAD
Tom Bianchi was unable to lead his band a few times about a month ago, so I jumped in and fronted the Baker Thomas Band for him, with help from my usual cohorts Jim Larkin on drums and Faisal Aswat on bass. It was so much fun we are going to do it again on the 29th!
05.29.13
LIVE AT NOON WUMB THIS FRIDAY
A few months ago WUMB added several tracks from Cold Sky to the rotation, and I'm excited to be playing their live at noon feature in anticipation of the Passim show. Over the last few years they've added a lot of americana and rock to the folk mix, and currently they play just about every artist I love. It's great to be in such good company. Tune in on Friday!
05.22.13
CLUB PASSIM ON JUNE 4TH!
This show is just two weeks away and we'd love to see you there! Follow the links below for tickets and info! I've been privileged to play Club Passim many times, but I've never had my very own night. On June 4th I get my chance. I'm bringing the band and I hope to see you there! The formidable Peyton Tochterman from Charlottesville VA will open the night.
Buy your tickets now for the Club Passim show
Check out the Facebook Event for the Club Passim show
PASSIM SHOW STREAMING ON CONCERT WINDOW
Nothing beats being at a live show, but if you can't get there due to distance or circumstance, check out Concert Window. They offer a great service and they'll be streaming the Passim show live for $5!
Watch the Passim show on Concert Window
05.02.13
Hopefully everyone out there in internet land is doing well. Quite a few things have happened since I was last in touch last October. Most importantly we had a daughter on November 9th that my beautiful wife Meredith and I named Nora. She's perfect, and living proof that every fatherhood cliche I've ever heard is true. Life is incredibly good, and everyone around here is appreciating it more than ever at the moment. The terrible events of the last few weeks reminded us of how small a town Boston actually is, and how much we love our neighbors and this city. I'm proud to call it home.
OPENING FOR PETER CASE AT THE NARROWS!
Peter Case is without a doubt one of the best songwriters to roam the planet. A few years ago a tribute box set was put out for him (that's right, not a tribute album, a tribute BOX SET) that included the likes of John Prine, Todd Snider, James McMurtry just to name a few. Richard Thompson and Tom Petty show up as guests on his records. It's seem like every great musician knows how great Peter Case is. You should too. Come hear him, I have the honor of opening for him at the Narrows Center for the Arts in Fall River.
04.12.13
ARTS AT THE ARMORY, TOM WAITS FOR NO ONE
This evening (4/12) I'll be at the Armory in Somerville MA, sharing a bill with Danielle Miraglia, and Wisconsinite Josh Harty, both of whom are fine individuals and writers of the highest order. Laurence Scudder will also be there to lend some viola love to the affair. You can check out the facebook event likey thing here. The Armory cafe is a great place, and they do have beer and wine.
Danielle and I like Tom Waits. A lot. So, next thursday we are going to open for a Tom Waits tribute band from VT called Small Change with our own Tom Waits cover project entitled Two Dollar Pistol. We'll have Jim Larkin on bass and Matt "Pie" Beaulieu on drums, and the whole thing will happen at Johnny D's. Buy your tickets here: TicketWeb for a waitsian evening at Johnny D's
01.27.13
It's a new year with a bunch of fun on the horizon, supremely augmented by the fact that I'm a dad now. Next week there's a gig at a new venue in easty, KO Pies. A week later i'm at Toad with Laurence Scudder and MR Poulopoulos as Rebel Darling. You can get the details in shows. There's also Exile on Elm St, and somewhat weekly gathering of questionable company making good music.
NEW SONG ON SOUNDCLOUD
This is a live recording of "One Second" from a rehearsal a few months back with Larry on viola, Jim on snare, and Fez on bass. I'm pretty sure it's the first time we ever ran through it. Thanks to Jim for recording with his iPhone.
10.23.12
NIGHT OF THE ZOMBIE LIZARD THIS SATURDAY the 27TH!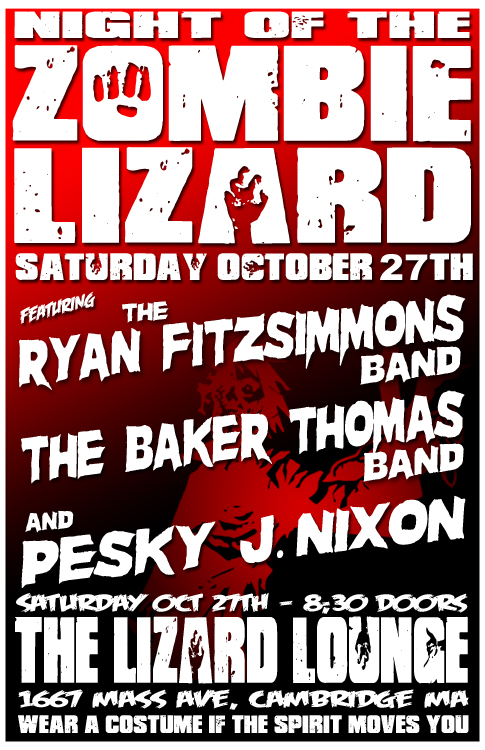 We look forward to this show all year long, and it's finally here! NIGHT OF THE ZOMBIE LIZARD (a.k.a return of the spawn of the bride of the son of the night of the lizard) is always a blast! This is our 5th year teaming up with Baker Thomas, and our 7th annual halloween show. This year Pesky J Nixon will start off the night. We will be in full force with a bunch of new tunes and a band that includes Laurence Scudder on viola, Jim Larkin on bass, Mike Piehl on drums and many special guests. Costumes are encouraged but not required, and Zombies will rule the evening!
SPINDLE CITY AMERICANA FEST AT THE NARROWS
Earlier this Saturday, before the show above, Danielle Miraglia and I are teaming up for this special festival honoring Gram Parsons in Fall River. It's an amazing line-up of bands including Girls Guns and Glory, Sarah Borges, Bob Kendall Band, Mark Cutler Band, The Mericans, Acousticana and Louie Leeman and we are proud to be part of it. We will be kicking off the show at 4:30pm, with 30 minute set including some Gram Parsons tunes that will be recorded for a special tribute CD.
More Information about the Gram Parsons tribute here
9.01.12
BROOKLYN COFFEE AND TEA HOUSE IN PROVIDENCE
When I first arrived in Providence many years ago, the Brooklyn was first venue that gave me a chance to perform. It's been a long time since I've been back, but Tony's fine establishment is still going strong. This is also the first full night I've had to myself in Providence in years, and I can't wait. Laurence Scudder will be joining me on viola. We'll be in the larger upstairs room.
Check out the Facebook event here
NEW ENGLAND AMERICANA FEST AT PASSIM
The New England Americana Fest is taking over Harvard Square on the weekend of September 13th through the 15th. This festival is the result of the collective effort of many local musicians to spotlight the tremendous talent we have around here in one big weekend. I'm proud to be a part of it, and psyched to be bringing my BAND to the legendary Club Passim for the first time! We're on at 8:50 on Saturday night
More Information on the New England Americana Fest here
GROOVING FORWARD: VOLUME 1
The SAMfund helps young adults recover from the financial impact of cancer. I'm pleased to include my previously unreleased song "Vacation" to Grooving Forward: Volume 1, a compilation CD to benefit this cause. I'm in good company, this disc includes Marc Cohn, Christian McNeill, Adam Ezra Group, Baker Thomas Band, Brothers McCann, Tim Gearan, Jimmy Ryan, Eric Royer, Danielle Miraglia, Greg Klyma, Pesky J. Nixon, Kingsley Flood, and Jared Salvatore. If that doesn't encourage you to purchase the download, I don't know what will!
You check out the track below, and follow the link to buy the download

7.03.12
BAND SHOW AT JOHNNY D'S
It's been years since we've played at venerable Johnny D's, and I'm excited to split the night with my friend Samantha Farrell and her band. We have some new tunes to debut and this big venue in the heart of Davis Square is the perfect place. I'll have Laurence Scudder on Viola, Jim Larkin on drums and Fez Aswat bass.
Check out the Facebook Event for Johnny D's Here
THE CENTER FOR THE ARTS IN NATICK SHOWCASE
This will be my first trip to TCAN, a prime listening room in MetroWest MA. This will be a great night, with sets by my friends Danielle Miraglia and Amy Black. I'll have Laurence with me, and definitely expect some further collaboration!
Check out the Facebook Event for TCAN Here
MORE VIDEOS!
There is more and more to watch on the YouTube channel, including more footage from the Lizard CD Release, and several songs from my show at the Nelson Odeon back in April, which also feature my brother Todd Fitzsimmons, Greg Klyma, and Brendan Gosson backing me up.
LIKE ME
Guess What? I have an artist Facebook page! I know, you are shocked. Sarcasm aside, seeing as so many of us spend so much time in the black hole of socialness, it would be great if you "liked" me. Then I can keep you informed when cool things happen. Follow this link below.
6.13.12
TOAD SATURDAY NIGHT
It's been a long time since we've played the late set at Toad on a Saturday night, and even longer since we've had a proper gig with Dana Price onfiddle. The opportunity has arisen at the last minute, and we are pleased to take it. In addition to Dana, I'll have Fez Aswat on bass and Mike Piehl on drums. It will also be the first outing for my rebuilt guitar.
Check out the Facebook Event for Toad Saturday 6/16
5.19.12
SOMERVILLE PORCHFEST
Once a year the Somerville Arts Council invites residents to turn porches into stages. Violist extraordinaire Laurence Scudder is hosting one such stage/porch today at 24 Central Street, Somerville. I'll be playing today between 2 and 3:30pm with Larry, and it is a glorious day for outdoor jamming!
Details on the Somerville Arts Council site
PORTSMOUTH NH AT THE DOLPHIN STRIKER
I just added this show TUESDAY at one of the best venues in Portsmouth, the Dolphin Striker. They always have great music and I'm excited to be playing there for the first time!
4.28.12
PROVIDENCE SOCIAL CLUB TOMORROW
I'll be in Providence this weekend on an excellent bill that features Steve Allain, Daniel Chase, Joanne Lurgio, and myself all warming up for Reed Foehl from Boulder, CO. The doors are at 6 PM and I'll be hitting the stage around 8 PM.
CLUB PASSIM CAMPFIRE
The Campfire Festival at Club Passim is a great way to check out an amazing amount of performers all in one weekend. I'm looking forward my set on Saturday May 26th around 8pm, where I'll be in the round with a couple of other great songwriters.
3.30.12
UPSTATE NY - CYBER CAFE WEST AND NELSON ODEON
I keep hearing how cool the Nelson Odeon is (just outside of Cazenovia NY) from friends such as Peter Mulvey and Danielle Miraglia who have played there recently. My brother and blues guitarist extraordinaire Todd Fitzsimmons (a Cazenovia local) will be joining me there next Saturday, April 7th, along with my buddy Greg Klyma on mandolin. You should reserve you tickets now at:
Get Tickets for the Nelson Odeon Here
The night before (Friday April 6th) I'll be back at the Cyber Cafe West in Binghamton, splitting the night with Greg Klyma. The Cyber Cafe never disappoints, with a great sound system, atmosphere and good beer. What more do you need?
LIVE ON WERS 88.9
I brought the band to 88.9 WERS today for Live Music Week, and you can listen to a recording of the set below. 88.9 WERS is one of Boston's most beloved radio stations and certainly one of my favorites. Jim Larkin, Fez Aswat, Kara Kulpa and Dana Price joined me.
Listen to a recording of our set at 88.9 WERS Here

MORE NEW VIDEOS
We recently added videos of "Haley Wall" and "Guardian" to the YouTube channel, and we've also started up a new Vimeo channel. "Haley Wall" is an extended full-band version from the CD release show, with some great solos by Laurence Scudder and Eric McDonald. "Guardian" gets a more subtle treatment with just Laurence and some sparse vocals from Danielle.
3.09.12
TOAD - SOLO
It's only been a few months since my last appearance on the Toad stage, but somehow that seems too long. Thankfully I'll be there tomorrow night, making as much noise as possible at 7:30 PM.
Check out the details on Facebook.
SONGWRITERS IN THE ROUND
We Just celebrated the 8th anniversary of this series that I started. I'm happy to be back hosting Sunday at AS220, with the killer line-up of MaryAnn Rossoni, Bethel Steele, and Brianna Grace. We all had to write a song on the theme "Dying is fine, but not today".
Check out the details on Facebook.
NEW VIDEO OF "YOUR STATE OF MIND"
We've been busy editing video footage recorded at the CD release celebrations. This version of "Your State Of Mind" opened my CD release at the Lizard Lounge last September. There are more great songs coming from both The Lizard and the Narrows. Subscribe to my YouTube channel while you are there to be updated when they hit!
Check out the video on YouTube
1.04.12
Fall River CD Release with Danielle Miraglia
The Narrows has always been my home away from home for years, and ever since I moved to New England it's been my favorite stage. It will be good to give the new record a proper release within these hallowed walls!
This will be a full band show, and a co-bill with my good friend Danielle who also recently released her fantastic new CD "Box of Troubles". I got to sing on that record, and Danielle sang on mine, so expect alot of collaboration!
Buy Tickets here
Check out the details on Facebook.
12.07.11
Five Shows at Toad
My favorite bar hands-down is Toad in Porter Square. I'll be here all month on Tuesdays for the early show (7:30 to 9:30) with my frequent musical cohort Laurence Scudder on the 'lectric viola. With Jeremy behind the bar and plenty of good friends on the other side, great things are bound to happen. Good times are a given.
Cover your Friends
I recently participated in the first round of Connor Garvey's new project "Cover Your Friends", in which he encourages songwriters to cover their friends songs and then post a video of it. I posted a video of Greg Klyma's "Helen Rose". Check the video and the project out at Cover Your Friends.
11.16.11
Rhode Island CD Release
Stone Soup at St Paul's in Pawtucket might be the best acoustic listening room in Rhode Island. The shows are held in a turn-of-the-century ballroom, with a beautiful stage and amazing acoustics. I can't think of a better place to launch my new record in RI. Laurence Scudder will be joining me on viola, and I'll be splitting the night with my old friend, Providence legend Becky Chace. She'll have the fantastic Brian Minisce on guitar with her, and between the four of us I can guarantee a good night.
Check out the details on Facebook.
10.14.11
Syracuse CD Release Friday October 21st
My good friends at the Folkus Project are hosting my Syracuse area CD RELEASE show at May Memorial. I'm looking forward to playing songs from the new record in that huge sounding room. My brother Todd Fitzsimmons will join me on lead guitar.
09.20.11
CD Release Show This Saturday
Lizard Lounge — Cambridge, MA
9:00pm | 21+
09.13.11
New Record Available Now from Village Produce
Cold Sky is now available to the public online in a variety of formats from Village Produce. Lossless FLAC, high-quality 320MP3 and lower-quality 160MP3 album formats are available for immediate download, and all CD orders will ship out promptly on September 24th.
08.18.11
Pre-Release Download of "Cold Sky" Now Available
If you contributed to my Cold Sky Kickstarter campaign, you should have received an email today containing a link and a code which enables you to download the album. Thanks again for all the amazing support, enjoy!
The physical product is in the initial stages of replication, and it is expected to arrive oin schedule, in time for my CD release show at the Lizard Lounge. Once they're in hand I will be shipping them out with the corresponding rewards for all those who pledged.
06.28.11
Update on the New Record
The production process is moving along nicely and we expect to have discs in hand by early September. To celebrate, there are two CD release shows planned on the horizon:
September 24th at the Lizard Lounge — Cambridge, MA
October 21st as part of the Folkus Series at May Memorial — Syracuse, NY
We're currently finishing the artwork and finalizing the mastering, and I'm aiming to have a special pre-release download ready for my Kickstarter backers in August, so stay tuned for more information on that.
04.23.11
We've Hit the Goal, Thank You!
With 6 days left in my Kickstarter campaign we've hit the goal amount! Thank you to everyone who supported this effort, I can't express how honored and excited I am. This record would not be happening without YOU!
03.30.11
Introducing "Cold Sky" — You Can Help
As many of you know, for the last three years I've been working on a new record with David "Goody" Goodrich producing at Signature Sounds Studios entitled Cold Sky. We are in the final stages, and with your help we hope to release this album in it's fully realized form within the next few months. We just need the final funds to mix, master, duplicate and release it to the world. I'm excited about this as it's turning out even better than I could have imagined, and I can't wait to share it with you!
TO HELP: Just check out my Kickstarter campaign. Every little bit helps, and you'll get cool stuff at every level of donation. You can also check out a brand new video featuring samples of the record, and some recent live performances. Even if you can't donate, consider sharing the link and spreading the word!